Michigan's Flint River is a 142-mile-long river that flows through Flint, Michigan, and the counties of Genesee, Lapeer, and Saginaw. The city of Flint, Michigan, is located on the river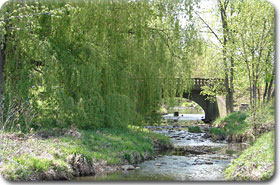 about 60 miles north of Detroit and is the fourth largest city in Michigan. Other cities near or along the Flint River Mi. include Montrose, Flushing, Genesee, Columbiaville, and Lapeer.
The river is supplemented by four major creeks, according to Wikipedia: the Kearsley (draining the south and central portions of the east side of Genesee County), Thread (draining the south central part of the county), Swartz (draining the Swartz Creek area), and Misteguay creeks (draining the area near the northern section of the border of Genesee and Shiawassee Counties).
The Flint River is an important source of tourism and leisure and is highlighted by Michigan's Flint River Trail, which runs along the Flint River from downtown Flint to the northern edge of Flint and on to Bluebell Beach and Stepping Stone Falls, where it resumes at the Bluegill Boat Launch and goes to the City of Genesee.
More on Michigan's Flint River and Flint River Trail:
» Flint River Watershed Coalition
» Friends of the Flint River Trail
» The City of Flint, Michigan
» Wikipedia - Flint River (Michigan)