Iowa's Flint River extends from the Mississippi River and runs through southeastern Iowa near the city of Burlington.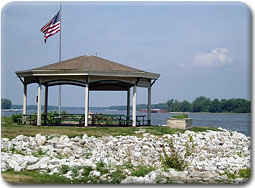 The area is gaining recognition for the Flint River Trail, a planned trail approximately 20 miles in length that will run along the Flint River Ia. from downtown Burlington to Big Hollow Recreation Area in northern Des Moines County.
Expected to be fully completed in 2013, the Flint River Trail is a joint project of the City of Burlington and Des Moines County and will be the first significant multi-mile trail planned in Southeast Iowa. A groundbreaking ceremony was held on May 21, 2010 to celebrate the start of construction on the trail.
The Flint River Trail will connect the Mississippi River Trail, downtown Burlington, the Port of Burlington, Riverside Park, Starr's Cave Park & Preserve, Thye Woods Habitat Preserve, Historic Zion School, and Big Hollow Recreation Area through the Flint River Valley.
More on Iowa's Flint River and Flint River Trail:
» The Flint River Trail in Iowa
» Flint River Trail Brochure (PDF)
» City of Burlington, Iowa Parks Guide
» Des Moines County Conservation